Archives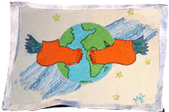 Some of our big installations
in a panoramic picture from Salpêtrière
to Centre d'Arts et de Plaisanteries.
Our angels in the migrants center,
Paris 2016

The chidl soldiers

A theme affects and motivates us thince several years.

Exibit at "Médiathéque Ceccano"

installation dedicated to migrants peoples. Avignon, 2017.

Air, air, open borders,

an installation dedicated to migrant.e.s people Facade of 59 Rivoli, may to october, 2016

Exibition in galery Miras

Oufa, Baskorkostan,
Russie, 2010

Monumental mural 200meter long

On the wall of an ERDF powerhouse,
Asnières sur seine, France.
Conducted in 2011 and 2012.

Installation Parc Dupeyroux

Journéés du patrimoine, september 2010

/>
Mail art
Souvenirs souvenirs
A small look of events and exhibitions past.

La route est là,
A group exhibition dedicated to the migrants people. Eglise Saint-Bernard, Paris 18,
june 2015 .
Ange & Dam embroidered
by Marie-Josephe Leccia
Installation dedicated to the migrants people
ArtTerria,
organized by the
Miras gallery
Symposium of sculptures on granite,
in Ufa, Bashkortostan, Russia, July 2016.